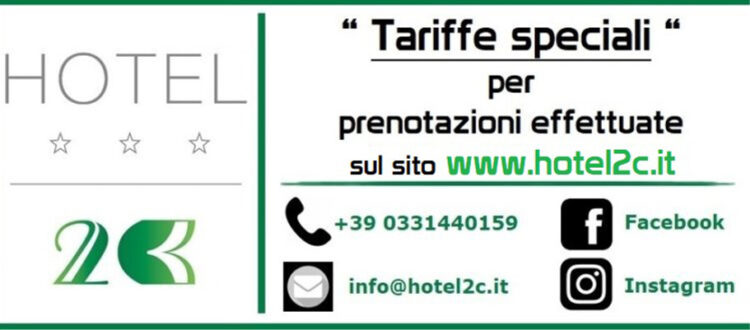 HOTEL LEGNANO – "Special rates 2023" (excluding Milan trade fair period) if you contact the reception or for reservations on the website www.hotel2c.it
Now more than ever, we offer our Customers and Collaborators sanitized environments and stays in peace.
Special rates for bookings made directly through: Tel. +39 0331.440159
Website: www.hotel2c.it / Email: info@hotel2c.it
Social: Facebook / Instagram
Hotel 2C is located in Legnano at 800m. Exit the A8 motorway, 18 km from the Milan Trade Fair in just 14 minutes. If you prefer to go by bus, the bus stop is 100 meters from Hotel 2C and takes you directly to the Fiera in Milan. Hotel 2C *** has 60 rooms divided into 2 buildings: the Hotel with 36 rooms (3 of which are reserved for disabled people), and the Dependance with 24 rooms with LCD TV,
– Free and unlimited Wi-Fi via Fiber Optics in the room and in the common areas.
– Last minute promotional offers for all the EXHIBITIONS taking place in Milan
– Choose your favorite breakfast in a rich and hearty buffet
– Ample free parking.
Possibility of half board with affiliated Restaurants.
We are in the vicinity of the municipalities: Cerro Maggiore, Rescaldina, San Giorgio su Legnano, Villa Cortese, Castellanza, Canegrate, Dairago, Magnago, Busto Garolfo, Inveruno, Marnate.
For any information, please contact us at Tel. + 39 0331.440159
or to the e-mail address: info@hotel2c.it – ONLINE BOOKING – CLICK HERE -.